Keep Your Ford Vehicle Running Smoothly with Regular Service in Quogue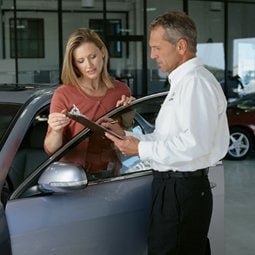 Scheduling regular service is the best way to keep your Ford vehicle running smoothly for years to come. Fortunately, the pros here at Otis Ford Inc. know exactly how to care for your car and keep it in excellent shape so that you can enjoy more miles of adventure and fewer big service issues. Our service center is outfitted with all the tools and equipment our pro technicians need to tackle your car's routine maintenance needs, and we're ready to help you whip your car into shape.
What Services Do We Offer for Your crossover, SUV and truck?
You know that your Ford model needs routine maintenance, like an oil change, tire rotation, and brake repair, and in Quogue, we are ready to provide these services for you. We also help you diagnose and repair your vehicle's issues, whether it's warranty work, recalls, or unexpected issues that arise in New York. We have years of training with your exact model to give you the care that you deserve, and we always do our best for you.
Convenient, Easy to Use, and Courteous
Not only can you expect expert care and attention when you visit our Quogue service center, you can also expect a service transaction and process that's easy, efficient, and exceptionally customer-service orientated. We go out of our way to give our customers exactly what they need, including an online service scheduling tool that allows you to pick the day and time to bring your vehicle in. Schedule your appointment soon and see firsthand how much easier it is to check vehicle maintenance off your to-do list with Otis Ford Inc..